Fallon is a self confessed serial doodler, hobby surfer and all round jewellery extraordinaire. She runs Seeker Jewellery from her garden studio after taking the leap into small business ownership from a large commercial brand. Here we talk ancient jewellery casting, tattoo inspo and balancing work/parenthood.
You were inspired to start Seeker Jewellery after working for a large global costume jewellery company. What made you leave and start up on your own?
A huge business like the one I worked for had SO MUCH waste. Literally bags and boxes of broken jewellery, thrown in the bin. It was made cheaply, sold cheaply and broke easily. This sort of stuff isn't made to be worn more than a handful of times and after a while I just felt so fed up with it all. The waste, the cheap labour that went into the production. Alongside that I have really skinny fingers, and struggled to find jewellery that fit me (or that I even liked enough to spend $$ on). Lastly, I am (or was) a serial hobby surfer, I love just having a go at learning new crafty things! Jewellery is the one that stuck with me, guess it's not a hobby any more.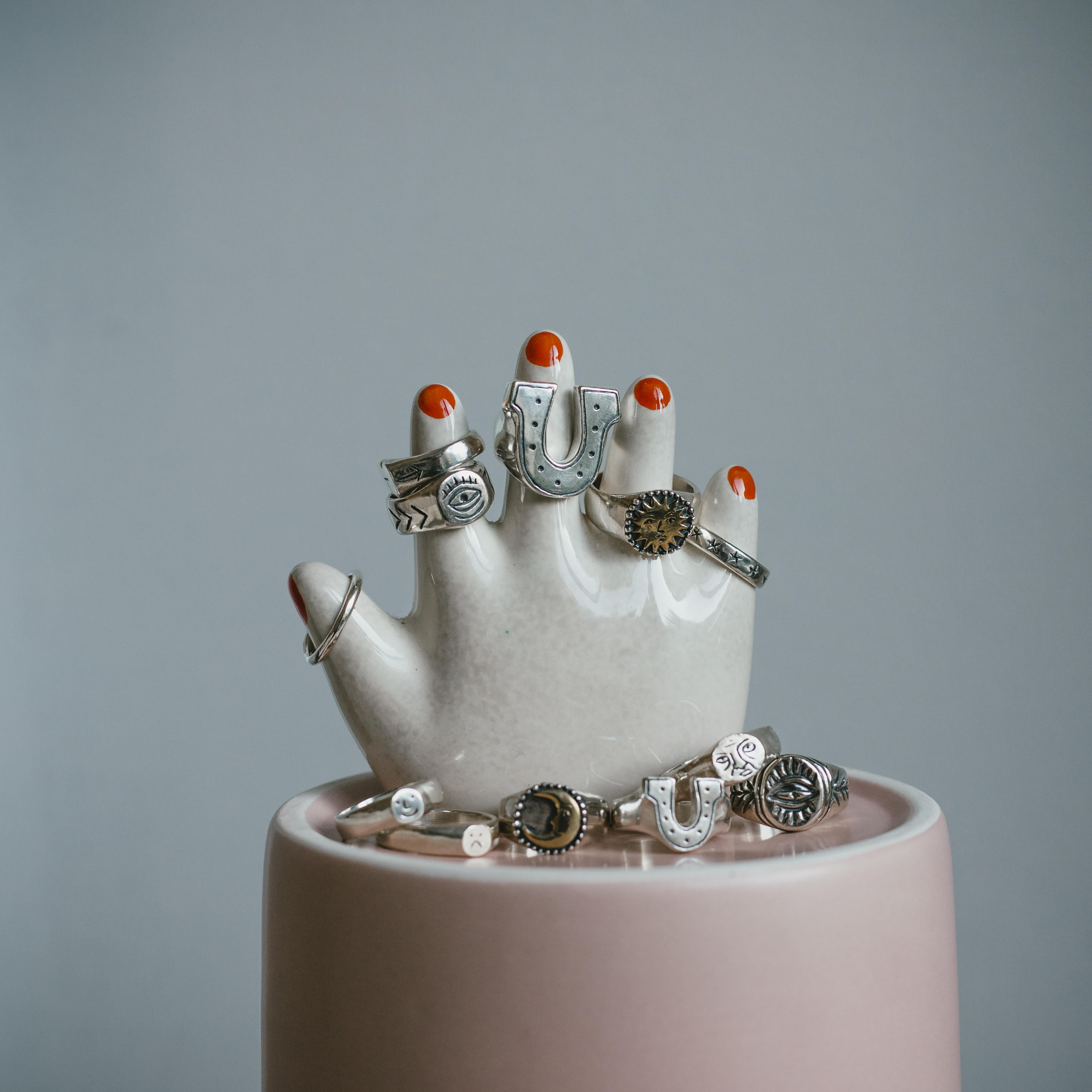 After taking the leap to set up your small business, were there any particular challenges you've had to overcome?
So many challenges haha! The first one really was just being brave enough to put myself out there. I set up my Etsy shop and I think it took a couple of months to make my first sale. I didn't tell any of my friends about my business instagram account because I was a bit embarrassed that what I was making wasn't good enough. Isn't it scary showing people the things you've made?! Maybe it's just me. Obviously I'm kind of over that now but that was the first hurdle.
The ongoing issue has been working my day job while at the same time finding the energy to create. On one hand, having a 'normal' job has allowed me the freedom to just make whatever I feel like, without any real pressure to sell. But there have been times when I've just been so tired of being so busy all the time, the amount of space it takes in your brain to run your own business is TOUGH. And being the person who makes all the decisions is a little bit terrifying.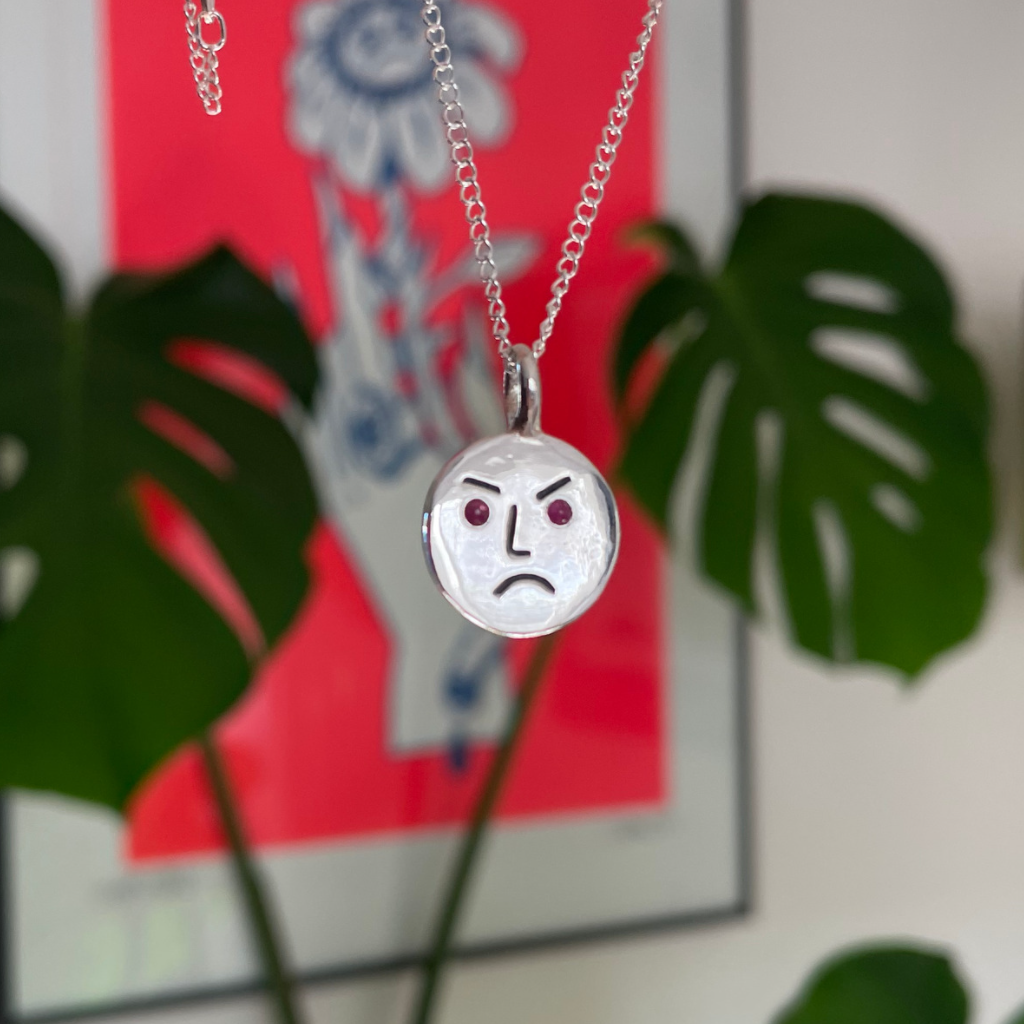 Your jewellery often features an illustrative grumpy face - what was the inspiration behind this little guy/gal?


Well I was always such a doodler at school. I got so bored and distracted in lessons, I was just constantly doodling. And for some reason it was nearly always a face. Perhaps on some level it's a bit of a self portrait?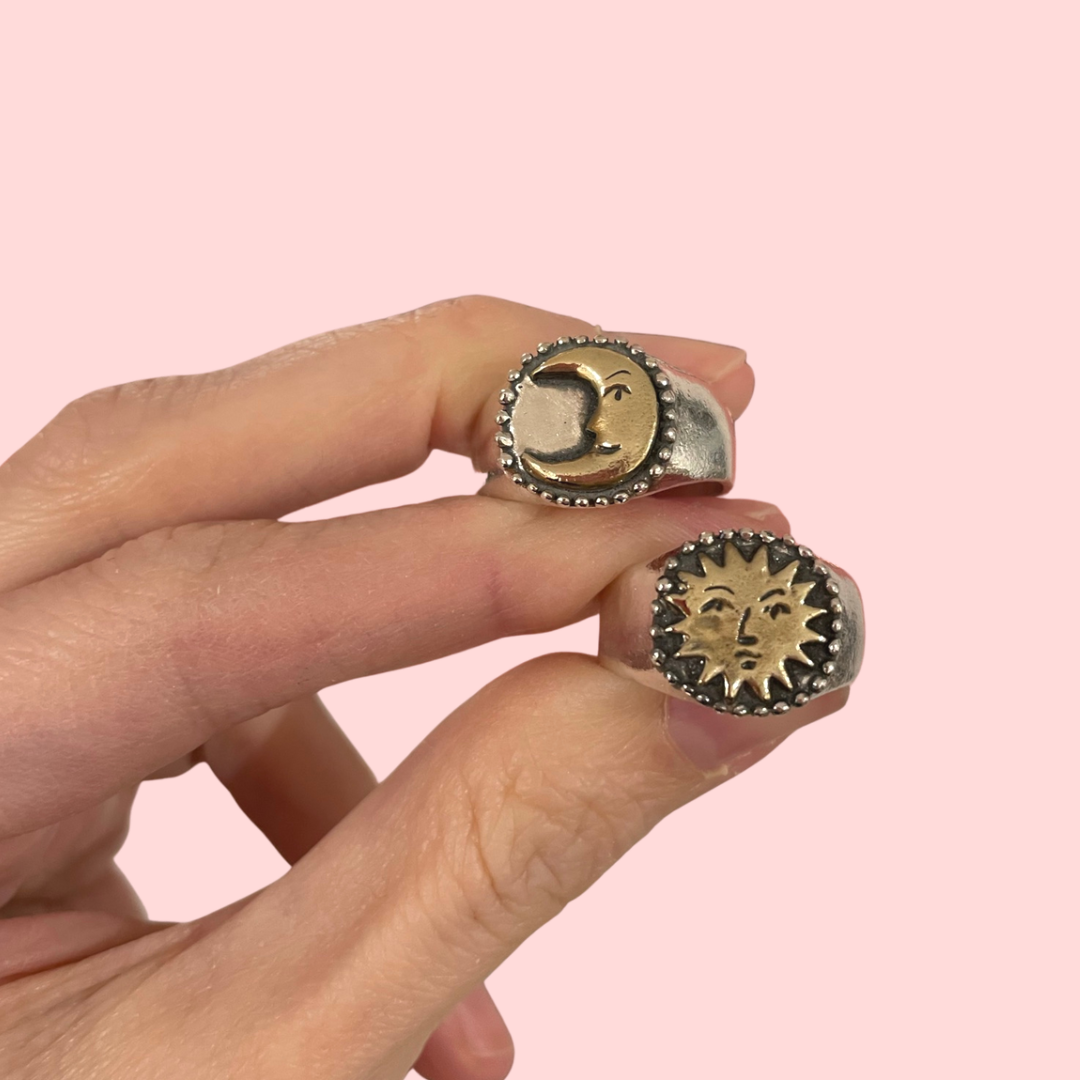 When creating your jewellery you use an ancient process called lost wax casting. What do you love about this method? And how did you learn about it?
It's been used for thousands of years, and the process remains the same. How cool is it that I'm doing the same stuff some other guy did thousands of years ago to make jewellery?! I love that since forever, humans just want to cover their bodies in jewels. We're just… decorated apes when it comes down to it, aren't we? Always have been, always will be.
I like the fact that wax carving is so sculptural, and it allows for mistakes! I can be a bit slapdash when I try to execute an idea, so to see it in wax before it gets turned into (expensive) precious metal is good! I also really enjoy that you can just doodle onto wax, and the mix of low-brow doodling and precious metals just appeals to me in some sort of way. I don't make jewellery that takes itself seriously because that's not what I'm about, I bloody love that I've doodled a stupid little grumpy face onto a signet ring and there are people out there on planet earth wearing it… bonkers. Sorry, went off on one a bit there! Back to the lost wax casting, it just worked for me as a person and a maker - it's quite quick, fun, sculptural, accessible. Everyone should have a go.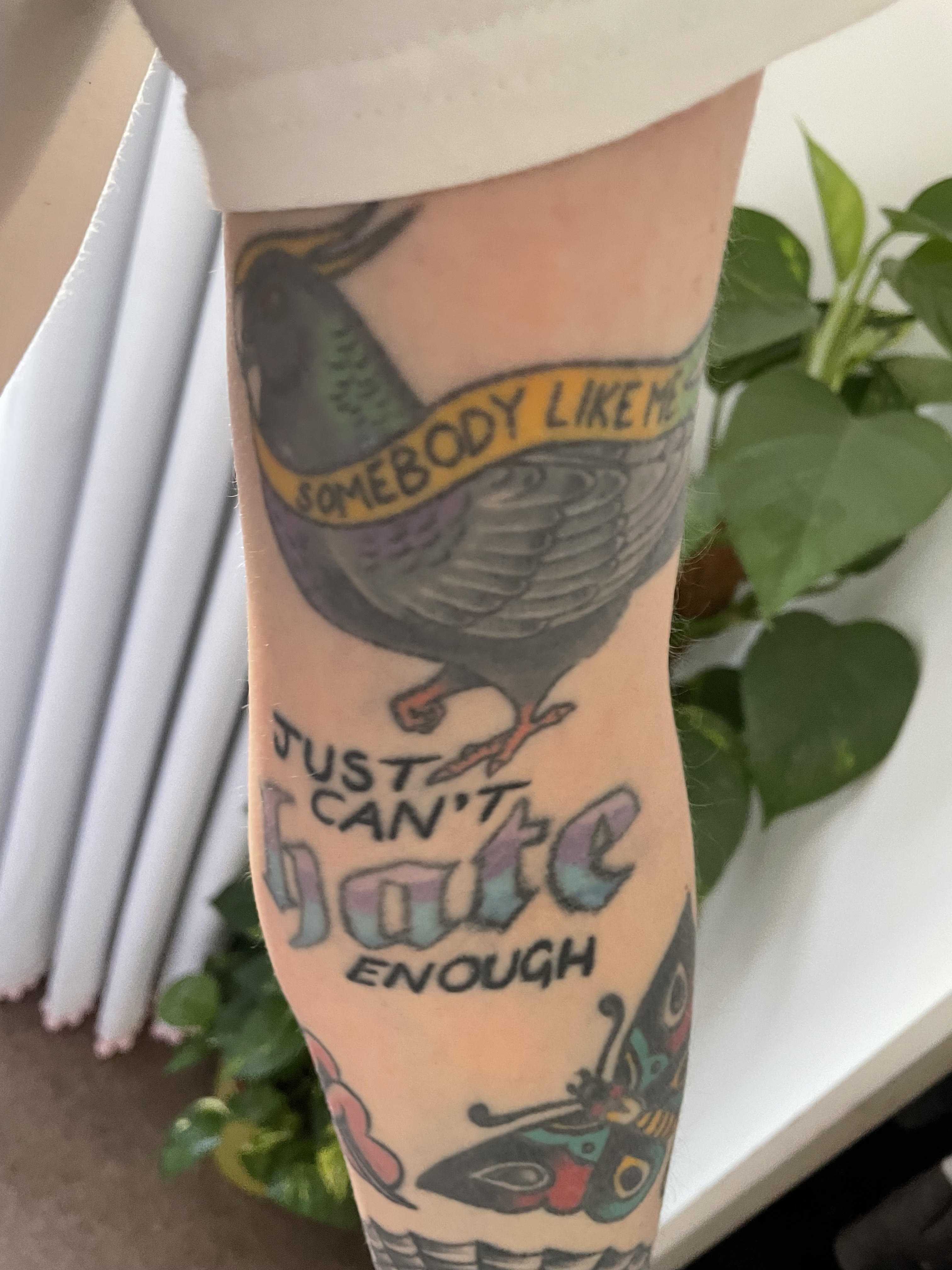 You have some beautiful tattoos, do you have a favourite you can share with us?
I have a pigeon with a gnarly foot that holds a banner saying 'somebody like me'. It's a Ramones/pigeon tribute, Ramones because they're one of my favourite bands and pigeons because they piss everyone off and don't give a fuck, even when their little feet are rotting off. I back the pigeon attitude. Pigeons are probably one of the most punk birds I reckon.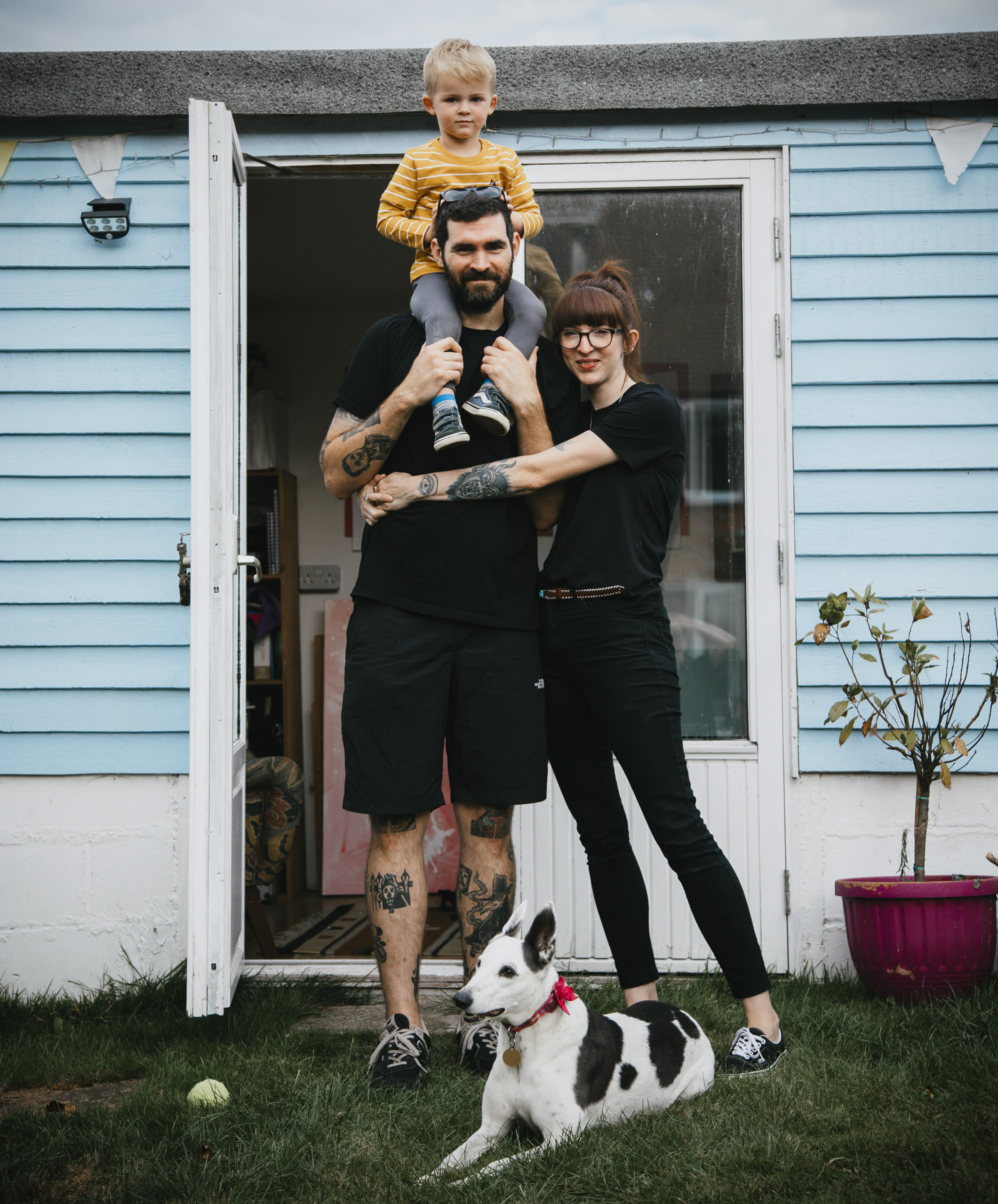 Your toddler Roman occasionally pops up on your instagram in the background of your photos, how do you find balancing parenthood and working from home?
Balancing parenthood and work is hard. But somehow I just muddle through because having him has made me want to work harder than I ever have. I want him to be proud of me, and it's important for me to be able to provide for him, in a way I might have liked when I was younger.
My partner Tom and his Dad built my studio when I was pregnant with Roman. It's at the bottom of our garden and it really helps having this space separate from the house. I always feel so happy when I walk through the garden and step into my studio, I get into work mode, and being away from the house helps me to focus.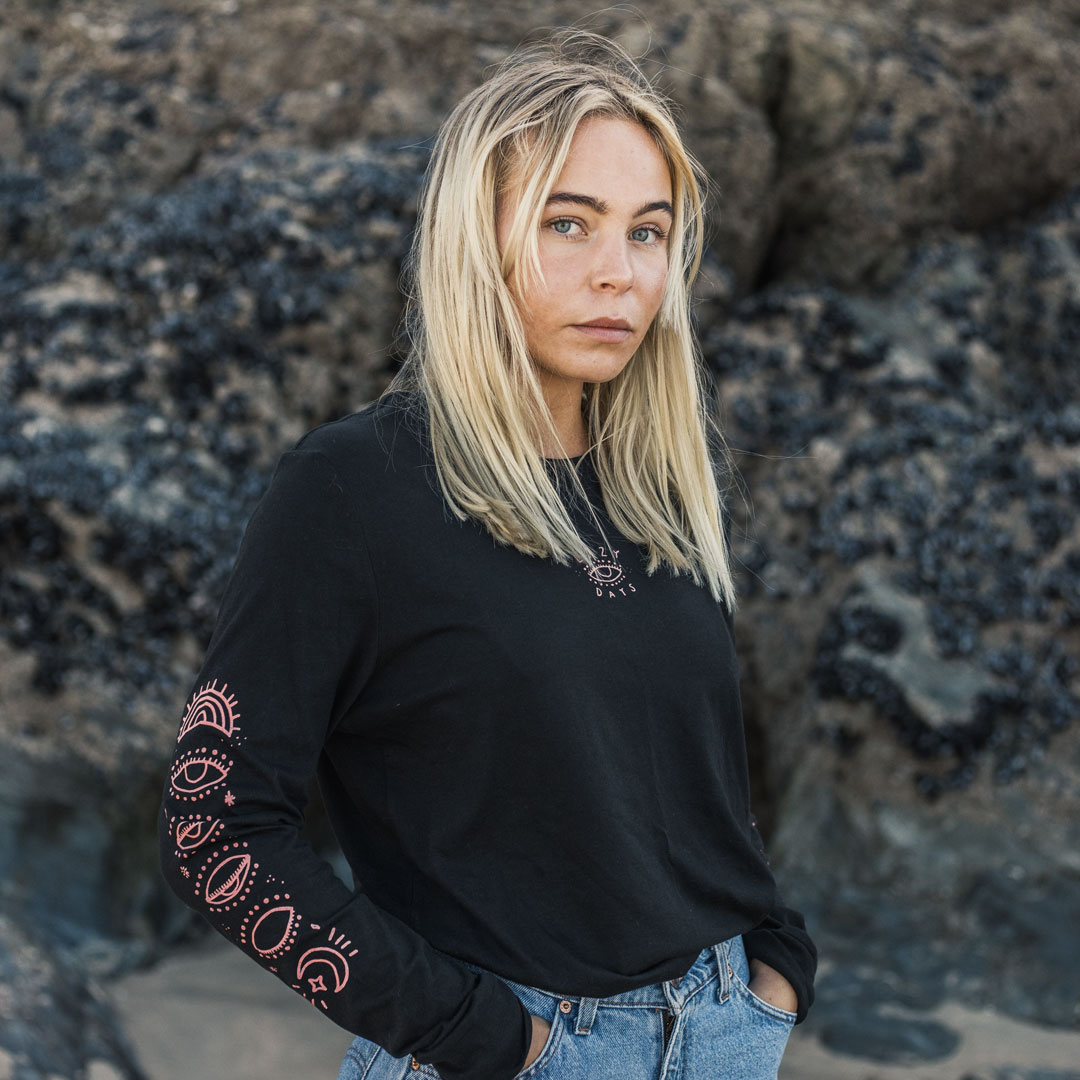 Do you have a fave Slow South design? And if so, which one?
Anything with the Lazy Days print because I do love an eye illustration. Oh I also really love the new joggers because who the hell doesn't love an elasticated waist haha!
Shop Lazy Days Long Sleeve